Karen Le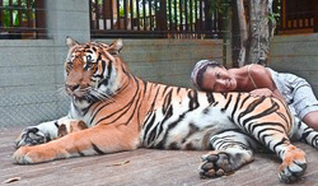 Karen was raised in Hawaii and has just moved back from teaching throughout
Southeast Asia, after leaving her corporate real estate law firm position to discover unpaved paths and ways other cultures view things. She is a graduate of the University of Hawaii's Law School and Political Science Graduate School. She has a professional background in community development, social justice policy, and in progressive alternative teaching methods.

She received her RYT 200 Ashtanga and Hatha teaching certification from Aryan Yoga & Reiki Centre in McLeod Ganj, India, a hill town located in the foothills of the Himalayas and home to the current exiled Dalai Lama and Tibetan government. Her intensive training stressed Asthanga's underscoring of the vitalness of alignment,postures maximizing the blood circulation flow, and breath over flexibility in order to ensure long term physical health, strength and internal focus. While there she spent time in Buddhist meditation retreats where going without speaking for the duration really allowed her to recognize her core. While in the Himalayas, she taught English to Tibetan monks and their community, and was blessed to be able to sit in on several teachings from the Dalai Lama. That is where she began exploring the buddhist traditions of mindfulness and analytical meditation, a practice that is now being adopted by the west in all areas from modern psychology to training the military. She was changed intensely inside. In adherence to her background in law and community development, she is very interested in the development of public health, social consciousness and alternative childrens programs, and thus teaching yoga came right in line with those life missions.

She also received training in Indian and Tibetan Ayurvedic healing, an alternative practice that has recorded positive results for over 4000 years longer than western medicine, irrespective of spirituality, and which generally sees the food you eat as the equivalent of medicine.


On Karma. Incorporating these philosophies recognizes that the surroundings you choose for your life, your perceptions of things that occur, and what you put into your body are all inter-dependent and will be realized in your mental and physical health; that they all work to create your future environment and its occurrences.

Karen teaches Ashtanga/Vinyasa Flow. She loves Ashtanga yoga's ability to mindfully control and rise to physically steadfast levels through focus, alignment and balance, as with martial arts practices. As a jazz and Polynesian dancer all her life, Karen is naturally engaged by the Vinyasa flow style, where rhythmic music and continuity immerse you in feeling of energized clarity and full involvement, all the while developing your flexibility. Due to her background in dance, she incorporates a subtle dimension of fortified grace to the postures.

Karen also practices real estate due to her love of architecture and warm serene yet vibrant spaces to exist in for oneself and your close ones. Having lived and traveled within 4 continents of Europe, Asia, and North and South America, she carries the diversity of those art, engineering and cultural influences to all that she is involved in.

With Karen's passion for wanting to make a difference within communities and for art and ease in life, and her varying love to so many of lifes beautiful ways to increase those things, she has realized her dream of creating her comfortable niche within yoga, real estate and non-profit community development work. Karen is a lover of wisdom and philosophy, animals and rugged nature, a devoted academic, and one very open to spirituality. She believes in the religion of kindness, and adheres to the ideals that only compassion, kindness and our connections with each other will lead us to lasting happiness in our own lives. Through yoga and social activism, she feels so blessed to be able to devote her life to the development of greater consciousness and compassion for herself and others.

---
Why Ashtanga. We want to help transfer the original teachings from India, to sustain it for our posterity into the future of our modern world. As we see often times yoga's teachings in the west being watered down in biologically unhealthy ways, we focus our teachings on the ancient tested methods that have resulted in peoples unbelievably beneficial results physically and mentally for thousands of years, with even reports of this series work in correcting scoliosis.

We maintain that proper alignment, blood circulation, and the yoga breathe; the underscoring of longevity of holistic wellness over competition, image and even flexibility; practiced in its synchronized proper sequence of breath and movements, as well as a mental dedication to greater consciousness and depth, compassion and mindfulness, with or without spirituality; is what has changed peoples health, attitudes, lifestyles and all around lives towards being more positive, internally healthy, pure, freeing, centered able-bodied people, much less susceptible to disease and emotional turmoil; with the channeling of energys flow through breath and focus, providing for greater mental and physical strength and stability and overall mind/body awareness.